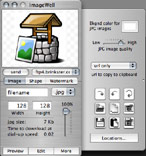 I don't want to become a news blog, but this time I have to make an exception, because an application that's close to my heart has graduated to version 2. Imagewell v.2 from XtraLean software has several bug fixes and plenty of useful new features! I've given Imagewell v.1 credit already few weeks back, so let me just say that this application is so cool it should be part of Tiger. But, before that happens, download it now and enjoy it for free!
Some of the cool new features include the ability to Import Pictures Directly from a Digital Camera and the URL History with Copy Selected URLs/Tags. Also, check out the top ten tips for using Imagewell.
Commenting on this Blog entry is closed.