Ever wonder if it's worth learning all the shortcuts that each application offers? Apparently it is.
I did a test to see how much time one gains using key combos, rather than navigating and pointing to menus with the cursor. I timed three versions of a certain set of operation that required moving between applications, opening and saving files and menu operations such as copying, pasting, filters, duplication, etc.
Using only mouse – 2:14 (134 sec.)
Basic combos (File open, Copy and Paste) – 2:04 (124 sec.)
All possible shortcuts – 1:52 (112 sec.)
Of course these results will vary for different people and types of work. But not surprisingly shortcuts definitely increase productivity. If you would use basic shortcuts over using only the mouse as a beginner you would save 7% of your work time. If you would use all shortcuts available, you would be done 16% faster. In terms of productivity mastering all the key combos can be considered as getting a CPU speed bump.
These gains can be further improved if you create actions, especially in PS. I think that's where Tiger Automator will come into the picture.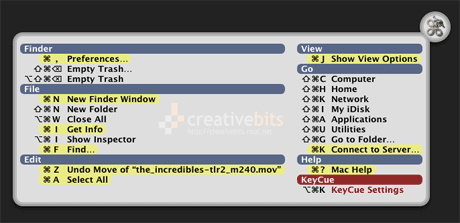 To help you learn the essential key combos there is a great little application called KeyCue. Once launched, when you press and hold Apple (Cmd) key it displays a semi transparent window in the middle of the screen with all the shortcuts available to you in the current application. It's very useful, but unfortunately the design of the window is really ugly and the logo is also too organic to fit the aqua or other popular themes. It's not free but look at it this way: it saves you a system upgrade.
Highlighted OS X shortcuts: Dock vs. PS Feather shortcut, Zoom in on your screen, Fast restart or shutdown, Save As window shortcuts, Screenshot.
Highlighted PS shortcuts: Layer mask quick edit, Transform duplicate, Fill shortcuts, Shift-Alt-Open, Change your brush dynamically.
Commenting on this Blog entry is closed.