Google Chrome OS launches
Ivan | Tue, 2010-12-07 21:58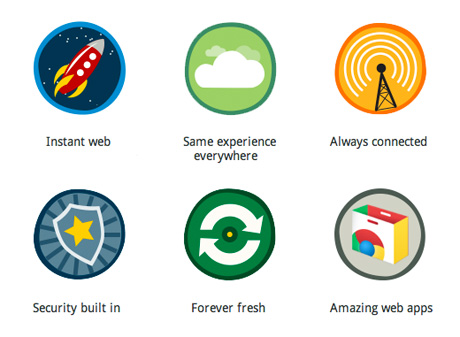 Chrome notebooks are built and optimized for the web,
where you already spend most of your computing time.
So you get a faster, simpler and more secure experience
without all the headaches of ordinary computers. Welcome to Chrome OS.
Watch the videos demonstrating the main features.
Speed
Chrome notebooks boot in about 10 seconds and resume from sleep instantly. Your favorite websites load quickly and run smoothly, with full support for the latest web standards and Adobe Flash.
Sync
All your apps, documents, and settings are stored safely in the cloud. So even if you lose your computer, you can just log into another Chrome notebook and get right back to work.
Connectivity
With Chrome notebooks, it's easy to get connected anytime and anywhere with built-in Wi-Fi and 3G.
Security
In today's world, any website - even well-known, legitimate ones - may be infected with malware. Just by visiting an infected web page, ordinary computers can get infected as well. Malware can exploit flaws in your browser to steal passwords, personal data, and financial information. It happens to millions of people without their knowledge.
Chrome OS is the first operating system designed with this ongoing threat in mind. It uses the principle of "defense in depth" to provide multiple layers of protection, so if any one layer is bypassed, others are still in effect. So while it's still important to take precautions to protect your data, Chrome notebooks let you breathe just a little bit easier.
Updates
The web evolves rapidly. Your Chrome notebook evolves with it. Every time you turn it on, it upgrades itself with the latest features and fixes. Annoying update prompts not included.
Apps
There are millions of apps on the web to do almost anything you can imagine - from spreadsheets to video chat to photo editing. Web apps install instantly, update themselves, and store your data safely in the cloud.
Using a Chrome notebook
See exactly what it's like to use a Chrome notebook, from start(up) to finish.
Commenting on this Blog entry is closed.