Use InDesign Tool Shortcuts while editing text
CreativeTechs (66 pencils) | Mon, 2006-05-29 21:20
This tip inspired by a good question from wmmarc:
I'm sure there must be some simple (probably obvious) way to get from typing text to the Move tool, or any other tool for that matter... When I press the Space bar to move the artboard or Type 'V' to get the Move Tool all that happens is that I've entered in a 'space' or 'v' and have to correct myself.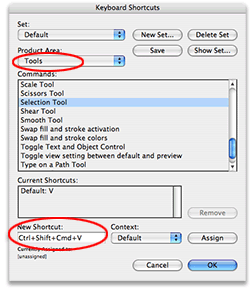 The Solution: Add your own text-friendly shortcuts.
Keyboard Shortcuts and switch the Product Area to Tools. Then scroll down to find the tool you need a new shortcut for. Click inside the New Shortcut field and with the Context as Text, type the shortcut you want. Make sure you use a modifier key such as Command and then a letter. For instance, use Ctrl-Shift-Cmd-V for the Selection tool.
You will now have two different shortcuts. The single letter can be used when you're outside a text frame, and the longer one when you're inside the frame.
Note: I created a small InDesign Tool Shortcut Cheatsheet if anyone wants to keep all these shortcuts handy.
Source: The original author of this tip was Sandee Cohen.
—
Email: eval(unescape('%64%6f%63%75%6d%65%6e%74%2e%77%72%69%74%65%28%27%3c%61%20%68%72%65%66%3d%22%6d%61%69%6c%74%6f%3a%68%65%6c%70%40%63%72%65%61%74%69%76%65%74%65%63%68%73%2e%63%6f%6d%22%3e%68%65%6c%70%40%63%72%65%61%74%69%76%65%74%65%63%68%73%2e%63%6f%6d%3c%2f%61%3e%27%29%3b'))
Web: www.creativetechs.com
Tagline: Left-brain support for Right-brain Pros.
Commenting on this Blog entry is closed.