Forwarding information from your iPhone
Ivan | Sat, 2009-02-28 15:44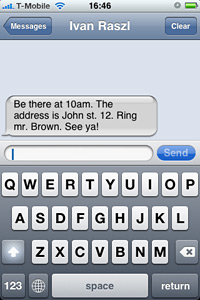 The iPhone is missing a much needed combo of features. Copy/Paste and sms forwarding. There is a straightforward but no so elegant solution.
You can take a screenshoot of your iPhone screen with any important information and email it to your contacts.
To take a screenshoot, press and hold the Home button and press the sleep button on the top. You will hear the familiar screenshoot sound and the screen will flash to give you visual and audio feedback on the screenshoot operation.
After this you should go to your photos and you will find the screenshoot in the camera roll. Select the right screen and forward it to an email address.
Commenting on this Blog entry is closed.