Changes in Leopard
mck (0 pencils) | Sun, 2006-08-27 08:41
The past few weeks, there has been some speculation suggesting that the next version of Mac OS X (code-named Leopard) will ship with a completely revised GUI. (To those not in the know, a preview version of Leopard was handed out to developers at WWDC a few weeks ago, with a "missing piece" Apple declined to demo.)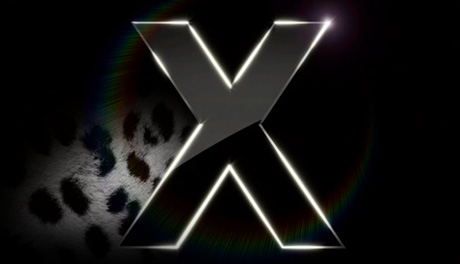 Exactly what "revised GUI" covers is unclear, but there are some hints around. Some people have been dropping clues for a long time that Leopard will feature true "resolution independence", which will break the traditional assumption that all screen display output is rendered at 72 dpi.
This technology, driven by Quartz, is present in OS X Tiger as well, but it's far from perfect and requires the Developer Tools to be installed. Using the Quartz Debug program, you can choose between a more detailed (with more pixels per point) or a smaller, less detailed UI (with more points per pixel) — without changing the screen resolution.
So what are the advantages of resolution independence?
For someone using a relatively small screen (for instance, one found on the 12" PowerBook) it would mean more usable screen real estate, because the entire GUI could be scaled down to a smaller size. However, this kind of thing is problematic because there is a shortage of usable pixels, making the GUI jaggy and unusable.
The real reason Apple is pushing for resolution independence is simple: future displays. The first monitors for the Macintosh ran at 72 ppi, which set an industry standard, but since then, that number has been increasing every few years. The first Titanium PowerBook had a 15.2" LCD at 1152x768 (about 91 ppi). The midrange MacBook Pro has a 15.4" LCD at 1440x900 (110 ppi). There are already screens that can do 1920x1200 at 15.4 inches.
The point here is that as display technology evolves, and more pixels can be crammed into the same amount of space, the 72-dpi GUI keeps getting smaller and unusable. Thanks to resolution independence, the GUI could be scaled up to the "normal" size, providing more detail in the same amount of logical dots (not to be confused with pixels).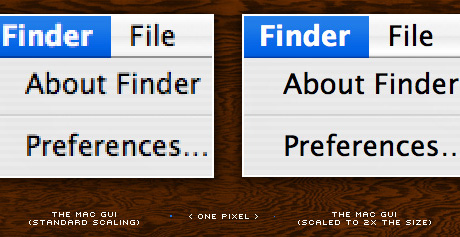 In the picture above, you can see an exaggerated sample of scaling at work. Imagine the sample on the left as your current display, and the sample on the right as a display with four times the amount of physical pixels. Both use the same amount of space, but there is a very noticeable difference.
Of course, the jump to four times the amount of pixels isn't going to happen overnight, which is why the sample above is exaggerated, but it shows the point.
You probably noticed that the sample above is of a menu, which (obviously) can be scaled with no problem at all to any size, even those that exceed the proportions of any screen. What about icons and graphics?
To begin with, all application and document icons will grow from 128x128 pixels to 512x512 pixels (again, this is overkill, but it's future-proof).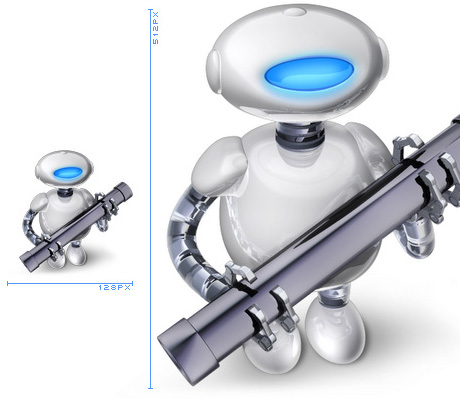 Furthermore, toolbar icons and anything that comes in a 32x32px size will now support sizes up to 128x128 pixels. 16x16px icons, such as those found in the menu bar, will grow to 64x64. Of course, Apple (as can be expected) is already readying its interface for "the big switch", as can be seen from the Automator icon above.
So here's a hint for icon designers: make as big an original work of every icon you make as you feel will be needed in the future, then downsample versions of them at 128x128, 64x64, 48x48, 32x32, etc. then add detail. This way your work will be future-proof, and you won't get hit by a sudden demand for larger graphics when a new technology arrives on the scene.
*****************
- Mackie
*****************
Commenting on this Blog entry is closed.