Implement Stack in Tiger (Mac OSx)
phalkunz (49 pencils) | Thu, 2007-07-12 08:22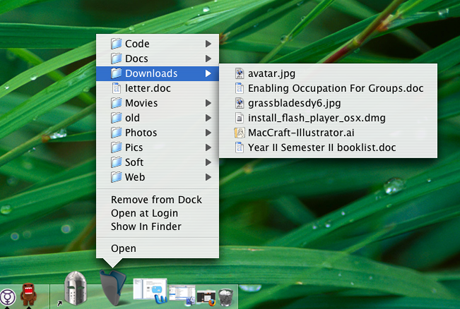 I don't know whether someone has this idea before or not. But this is what I found. My desktop was such a mess before this. After seeing the Stack feature sported with Leopard, I was like gosh Leopard has addressed my problem but I don't have Leopard on my machine and I won't even after October. That's the problem.
However, I found a way to get around it in Tiger. It's so easy. We just create a new folder somewhere and drag it into the right side of the (separate) bar of the dock. We're not allowed to place any folder on the left side of the dock, it's only for applications. In that folder we can create other folders, for example Downloads. Since it's on the dock, we have an easy access to it, easier than the one on the desktop. Even more better, we can right-click or click and hold a second or 2 on that folder, it shows the folder's content as well. Even though, it doesn't look like Stack in Leopard, it helps me alot.
Commenting on this Blog entry is closed.