iGlue Launches Semantic Web search in your browser
Ivan | Fri, 2010-08-13 11:08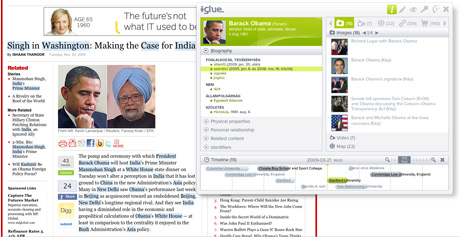 With Google recently hitting the headlines with the purchase of semantic database tool www.freebase.com, semantic search is becoming a big upcoming topic that is promising a lot in terms of the way we search the web and more importantly how we view the information in different media.
iGlue, based in Budapest, is a semantic search tool that provides an interesting angle on searching inside everyday media. iGlue's IceCube bookmarklet simply hangs inside any browser after a simple click, no installs, no .exes. From that point on the IceCube will offer you in-depth semantic search on any article you're reading. Simply click annotate in the widget and it will match the text in your article to the database and highlight it. A simple mouseover of the text and you get some detailed info on the person, place or institution mentioned. A click will open up a smaller window which will show a variety of media from text, maps, images and videos. In short, it's a great way of reading around a piece as it offers a rich media layer on every single article you read, wherever you are on the web, without trawling 20 different sites.
With semantic search a key buzzword in tech world, iGlue promises to be amongst the most interesting engines not least as it needs no permission to scan websites and works in any browser, anywhere.
To check out some more info on iGlue go to http://blog.iglue.hu/docs/iGlueShortPrezi/
To see the demo in action on an example New York Times page before the September launch, check: http://iglue.com:8082/demo2/query.nytimes.com/gst/index.html
Commenting on this Blog entry is closed.