Duplicate a Shape Using the Rotate Tool
Chez A (89 pencils) | Tue, 2005-08-30 20:04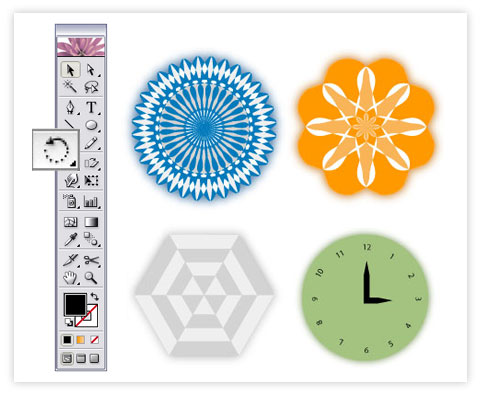 The rotate tool is one of the most important tools in Illustrator. To duplicate a shape using the rotate tool, first select the shape if not selected and then select the rotate tool. Place the rotation point on the desired position and rotate the shape while holding Alt (hold Shift + Alt to get a perfectly 45D angle) to make the first copy and the fun part; press Ctrl-D (windows) Cmd-D (mac) repeatedly. By doing so, you'll get an equal rotation spacing/distance between the shapes.
Using this magical tool, you could turn virtually any shape into a beautiful kaleidoscopic design, create patterns of shapes, add numerical characters to a clock or dial efficiently and lots, lots more.
Commenting on this Blog entry is closed.